ID Card Printing Service
RELATED PRODUCTS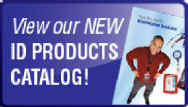 Don't want to bother with buying an ID system?
Let us do all the work for you !
Tell us what you want your ID card to look like.

Approve the card design.

Send us your photographs and individual information.

We put it all together and print them up.

We print your IDs on hard plastic PVC cards.

300 dpi printing with UV protection

Choose accessories: Clips, Lanyards, Holders, etc...

We ship your ID cards to you.
There is a one-time setup charge of $50.00

Extra copy of IDs produced is only $1.50 each.

ID = variable / changing information on each ID card

CARD = static / same exact information on each card

Quantity
Full Color Photo ID
Full Color Non-Photo ID
One Color Non-Photo ID
Full Color CARD Printing
Single Color CARD Printing
1-10
$15.00
$13.00
$12.00
$5.00
$2.00
11-25
$12.00
$10.00
$9.00
$4.00
$1.50
26-50
$10.00
$8.00
$7.00
$3.00
$1.00
51-100
$8.00
$7.00
$6.00
$2.50
$0.75
101-250
$6.00
$5.00
$4.00
$2.00
$0.50
251 +
$5.00
$4.00
$3.00
$1.50
$0.35